Once again this year, our Walks for Williams will be primarily virtual and we need your help to continue our mission and programming!  On Saturday, August 28, we will hold our virtual walk, "#EverywhereWSA". And since it is virtual, you can walk, run, dance, paddle, kayak, or bike anywhere: around your neighborhood, at your favorite park, or in the comfort of your own home – with friends, family, fur-friends, or on your own!
Additionally, in select areas throughout the country, there will be in-person walks during the months of August and September. 
Our goal of $500,000 will provide 50% of the funding we need to continue all of our programs and events without pause or modification. Whether you create a team or donate to the walk for the first time, or you've been participating for many years, walking together in 2021, and donating at the most meaningful level possible, will ensure that the programs of the WSA will continue for years to come!
Ready to join us or donate? Visit wsawareness.org or click the button below.
Here are additional ways you can participate in our 2021 Walks for Williams:
1. CREATE YOUR TEAM AND SET YOUR GOAL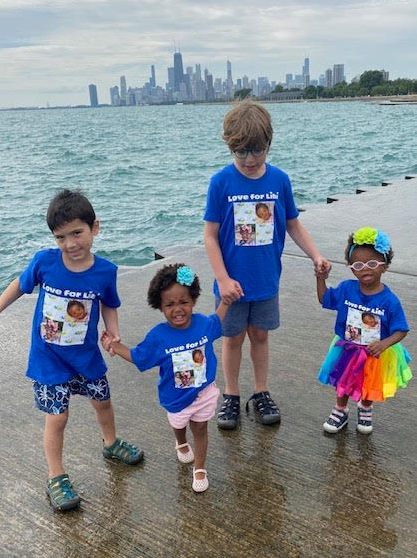 Your first step is to sign up on the WSA Virtual Walk page: wsawareness.org. One measurable way to set goals is to use numbers that represent Williams syndrome. You may have heard about the numbers 7 and 28, as Williams syndrome is caused by the deletion of genetic material from a specific region of chromosome 7. The deleted region includes approximately 28 genes, and researchers believe that a loss of several of these genes probably contributes to the characteristic features of individuals with Williams syndrome. So be creative! Be sure to customize your page with your story and pictures that create meaning and connection for those who will be visiting it. 
Team Size and Activity
For team size, strive to secure 7 team members (or 28 if you are ambitious). Ask your team members to find 7 donors (but don't stop at seven if you have more who are interested!)
Next, establish a distance for your personal walk - Perhaps your very young child with WS will take 28 steps, an older youngster may walk 7 or 28 blocks, you may wish to walk 7 miles in a week or 28 miles in a month. Whatever works for you!
If you or any of your team members prefer biking, or kayaking, or running – that's fine too! If you'd rather stay inside and use a treadmill, an elliptical, or a cycle – those are all great options. This year, it is about being creative, staying safe, and having the opportunity to join us from EVERYWHERE in the USA.
This is your opportunity to increase awareness AND raise money for the WSA.
Setting Your Fundraising Goal
There is no minimum, but if you are able, we suggest $500 as a team goal. Five hundred dollars sounds like a lofty goal to some, but if you have 10 people donate $50 each or 20 people donate $25, you have reached your goal. Or you can think back to the #'s – 7 members, each donating or raising $70 = $490! 28 members each donating or raising $28 = $784! Check out the chart below to see how quickly your team total and IMPACT can grow. Be sure to tell your own story and how the WSA has helped your child and family.
If 1000 families create a team with a $500 goal, and we all succeed, we will reach our goal for 2020. Some teams may fall short, others will exceed that amount, but as the WSA family, we all win.
Winning Combinations for Teams and Donation Sizes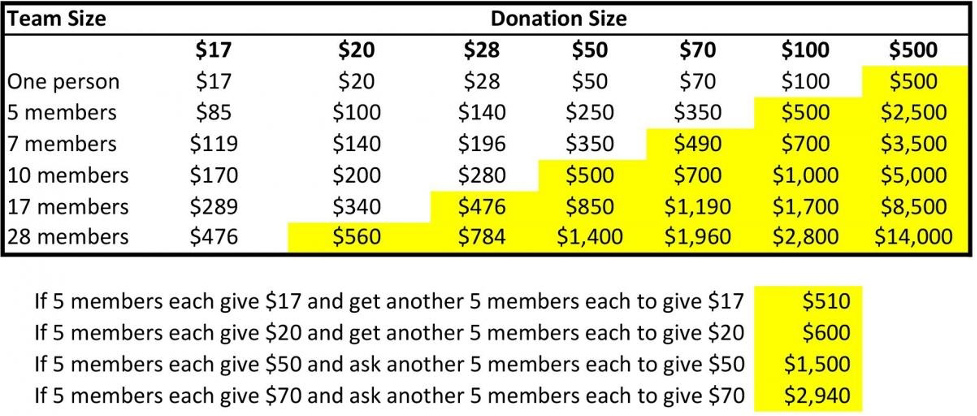 Your Network of Potential Supporters - Make It A Game!
Everyone has a large network of people who would likely be happy to support your family by joining your walk team or fundraising for the WSA. But who are they and where do you start? How about with a game?! This colorful board game functions as a reminder of just how connected and broad that network is—and it's fun! So, roll the dice and play along! Click here for the printable download. 2. FIND SPONSORS
In the past, the WSA has been on the receiving end of many generous sponsorships ranging from $250 to thousands of dollars from local businesses. While many businesses have been impacted by the events across the country, they continue to support organizations like the Williams Syndrome Association. We hope we can count on their support this year!
How To Find Sponsors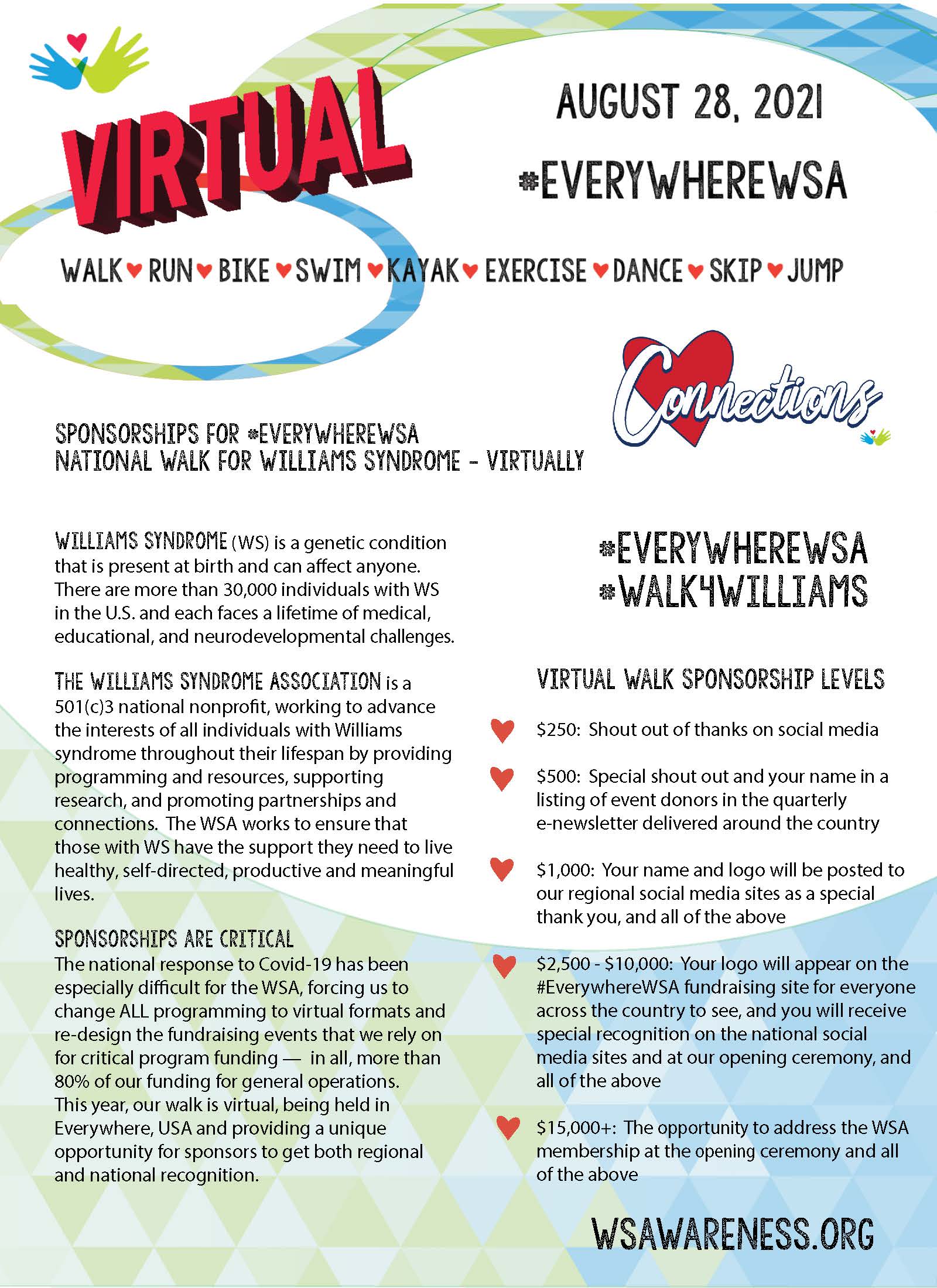 Prepare a letter for a local business (a place that knows you well or your workplace is a great place to start). Begin the letter with some background on WS and on how the WSA has helped you and families like yours. Explain the need and the programs their donation would be supporting. As you ask for the sponsorship, let them know that you will personally thank them, the WSA will thank them along with the other sponsors, and if they are able to provide a specific amount (see below), their logo will be displayed on websites and social media.
WSA Virtual Walk Sponsorship Levels
For a donation of $250, we will give you a shout out of thanks on social media and let our families in the area know that you helped.
For $500, the WSA will also include your name in a listing of event donors in the quarterly newsletter delivered around the country.
For $1000, your name and logo will be posted to the regional social media sites as a special thank you. The regional pages are seen by thousands across states within our region.
For $2500, $5000, or $10,000, your logo will also be posted on the Williams Syndrome Association's team pages for everyone across the country to see, and you will be identified by the amount of your support.
The WSA is working on other meaningful ways to promote your sponsorship as well.
3. PROMOTE YOUR TEAM AND CREATE AWARENESS
After you create your page on wsawareness.org, use the "Share" icons near the top right-hand side of the page. You can share to Facebook, Twitter, or even send out emails. We suggest adding content to social media, giving your personal story and what the WSA means to you.
Here are some tips for success:
Use the hashtags: #EverywhereWSA #Walk4Williams #WSawareness #WilliamsSyndrome
Individually THANK your donors – every one of them! Often a shout out on social media will suffice – with your donor tagged. A sample suggestion: "Thank you Aunt Susan Jones – your gift makes a tremendous difference to the WSA!"
Share your fundraising site in any way you can.
Some donors may like to send a check, and that is welcome. Please ask them to make it payable to the WSA and send it to:
Williams Syndrome Association
Virtual Walk/Team Name
560 Kirts Boulevard, Ste. 116 Troy, MI 48084 US
HAVE FUN and thank you!