*Please note: All programs for children and adults with WS and their siblings will close on May 15th. If you haven't registered them yet, please do so before Sunday, May 15th at midnight! (parents and caregivers have more time, but we need program numbers).
Held biennially in July, the National Convention brings together the foremost experts on Williams syndrome and related characteristics to discuss the latest research findings, medical treatments, and educational strategies. More than fifty educational sessions provide families with the latest resources and information, while children are entertained and cared for in specialized age-appropriate programs.
In addition to the educational sessions for parents/caregivers/professionals, the WSA convention typically includes:
Keynote speaker(s)
An IEP "Drop-in" Clinic where you can schedule a private appointment with an experienced advocate to review your child's current IEP.  Sign up for a free 45-minute one-on-one session with advocacy experts to review your child's IEP and get general suggestions for making current goals stronger, more appropriate goals to add, requesting services, etc.  Sessions are available throughout the day, every day! 
"Roundtable" small group discussions throughout each day - you pick the topic you'd like to discuss and invite others to join you at your table or join someone else at theirs for informal discussions and information exchanges.
Optional "off-site" entertainment option for the whole family at a local waterpark.
Optional "group ticket blocks" to a minor league baseball game and local theater production.
COVID PROTOCOLS, AS FOLLOWS, WILL BE IN PLACE AND STRICTLY ENFORCED AT THE 2022 CONVENTION IN SCHAUMBURG (UPDATED APRIL 11, 2022)
At the recommendation of the WSA's medical advisory board members and WS clinic directors, and following a careful review of the current CDC recommendations for large (1000+ attendees) indoor meetings, the vaccination requirements as previously announced will remain in effect for the 2022 National Convention in Schaumburg, Illinois.
Out of an abundance of caution for our members, all convention attendees (families, staff, speakers, and volunteers) must be fully vaccinated, UNLESS under the minimum vaccination age at the time of the convention. Children under the minimum vaccination age will be required to wear masks indoors (except those age 2 and under) and all volunteers working with that group of children must be masked. Masks are strongly encouraged for all participants indoors and may be required depending on COVID status at the time of the convention.  Please note: Depending on COVID status and CDC guidelines at the time of the convention, a negative test taken within 24 hours of arrival may also be required.  There will be no exceptions.
Virtual session options are available for those who are not able to attend.
2022 Williams Syndrome Association National Convention
*** REGISTRATION IS NOW OPEN!***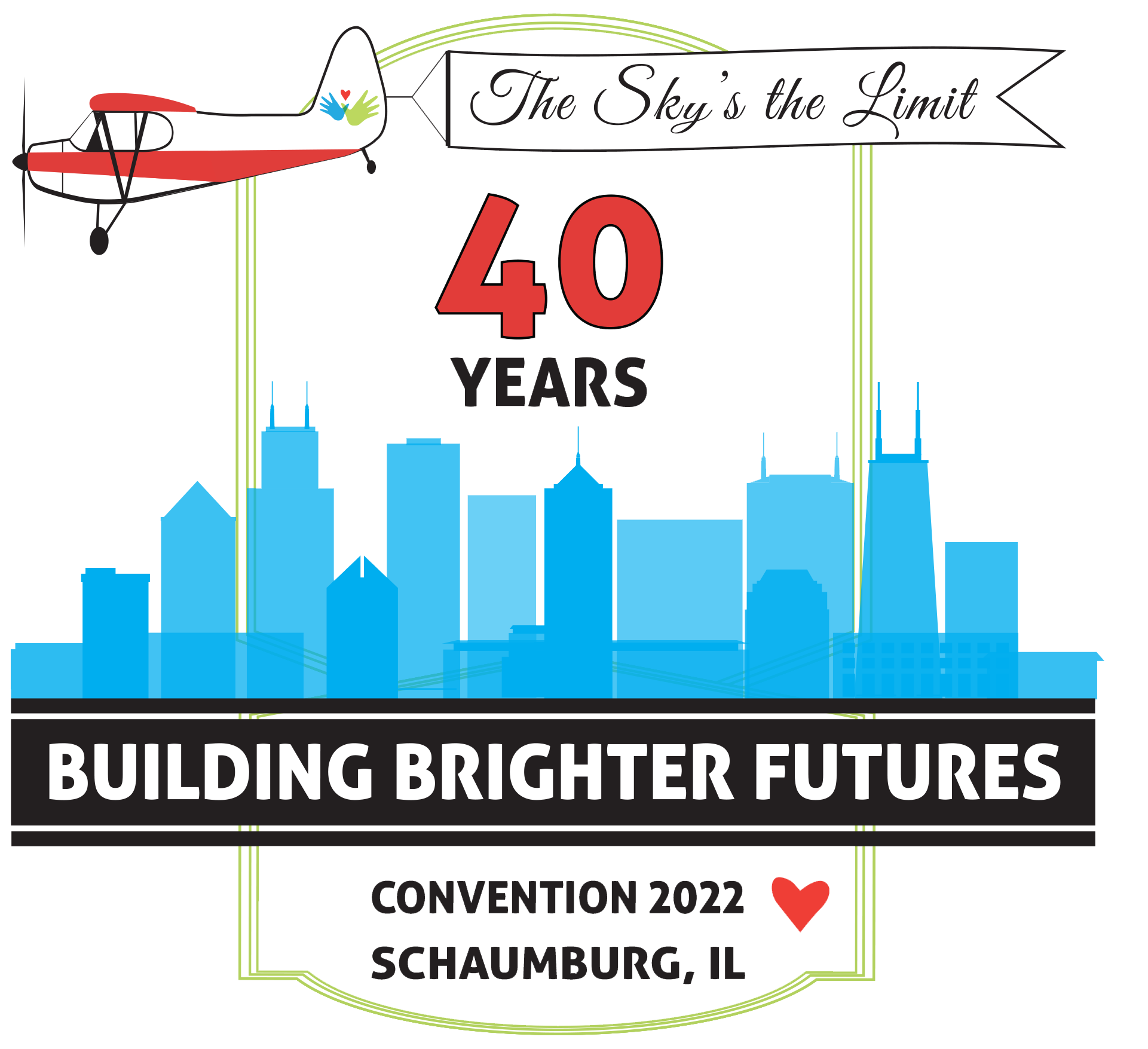 When: Tuesday, July 12 - Saturday, July 16, 2022
Where: Renaissance Schaumburg Convention Center Hotel 1551 N. Thoreau Drive, Schaumburg, IL 60173. Reserve your room at a special rate in our room block now! 
Looking for a suite hotel? Check out our room block at the Embassy Suites, 1/4 mile from the Renaissance, with a free shuttle.
Want a video sneak peek of Schaumburg and our hotel? Check this out!
How do I register: Click here for online registration.
Downloadable Registration form
Please note: Registration deadline for those requiring children's programs or programs for adults with WS is MAY 15th!
Deadline for optional event registration is June 1.
What will it cost?: Current registration fees for the convention are as follows:
In-person Attendance:
Weekly registration for one adult
parent, caregiver or professional): $500
Daily registration for one adult
(parent, caregiver or professional): $175
Weekly registration for two adults
(parent, caregiver or professional): $750
Daily registration for 2 adults
(parent, caregiver or professional): $250
Programs for individuals with WS (and siblings under 16)
Infants/Toddlers:    $200 (weekly)  $75 (daily)
School-age:           $225 (weekly)  $90 (daily)
Teens/Adults:        $250 (weekly)  $95 (daily)
*Special rate for all others onsite and not attending sessions (vaccination guidelines apply):
volunteers, parents/caretakers/grandparents etc.: $125
Virtual Attendance: $225 -  All sessions. Entitles the registrant to access links for every convention session in the program. Each session will be video recorded, and links to the video plus any presentation materials for the session will be provided within two weeks of the close of the convention. Once uploaded, the sessions can be watched "on demand" at any time. Virtual sessions links will only be available to registrants. Registration deadline is July 12, 2022. 
 
Complete schedule of registration and optional event fees
Week at a glance:
Tuesday, July 12: Registrant check-in begins midday, 4-6 pm Vendor and Exhibitor Open House, Opening Night Festival 6-9 pm.
Wednesday, July 13: Full-day programs for parents/caregivers, kids and adults with WS, and their siblings up to age 17. Watch for information on optional evening activities. 
Thursday, July 14: Full-day programs for parents/caregivers, kids and adults with WS, and their siblings up to age 17. Watch for information on optional evening activities. 
Friday, July 15: Full-day programs for parents/caregivers, kids and adults with WS, and their siblings up to age 17. Watch for information on optional evening activities. 
Saturday, July 16: Programs for parents/caregivers, kids and adults with WS, and their siblings up to age 17 until 2 pm. 7 - 10 pm is our big WSA 40th Birthday and Closing Dance Party!
Complete agenda of 2022 parent sessions *Sessions marked "virtual" on Saturday 7/16 were pre-recorded. 
PROGRAM HIGHLIGHTS
Opening Festival and Vendor Fair: Join us for an opening night outdoor festival that has something for everyone, complete with live bands, food trucks, kids' activities, and much more! Prior to the festival, visit our open house, showcasing exhibitors providing resources for post-secondary options, employment, and agency resources of all types.
New Family (convention first-timer) Welcome Session: This gathering will include introductions to parents with "deep" convention experience who can provide guidance throughout the convention, a convention primer to help decrease the feeling of overwhelm that can overtake every first timer, and strategies for de-stressing and getting the most out of your time at the convention.
Cultural Connection: We understand that there can be additional challenges raising your child with WS when English is not your first language, when religious traditions prevent you from attending activities on dates when everyone else is available, or when you look around a room and feel like you are alone - different from everyone else attending. Throughout the convention, there will be several sessions geared to families with culturally diverse backgrounds.  These will include sessions in Spanish, sessions provided by WS experts from culturally diverse communities, and Parent Panels to discuss the challenges and strategies for feeling and being included.  There will also be a cultural connection reception on Friday evening.
IEP Reviews: Sign up to have a 45 minute, 1:1 session with an advocate to review your child's IEP or seek direction on specific questions concerning the IEP process.  Special educators with deep WS experience will be on hand to review your child's IEP and make suggestions for improvement.
Research Opportunities: Click here to see a list of research opportunities and registration information.
Lunch and Learn Opportunities: Session topics will include discussions about transitions, genetics, college programs, anxiety, assistive technology, and much more. 
Experts participating include WSA Professional Advisors, researchers studying Williams syndrome, therapists and educational professionals with WS expertise, post-secondary, employment and housing representatives, and many more.
SPECIAL SESSIONS THOSE WITH WS AND SIBLINGS 
Programs for children and adults with WS and siblings ages 15 and younger will be held each day - Wednesday thru Saturday. Registration fees for Infants, Toddlers and School Age children include daily snacks but lunch is NOT included. Attendees in these programs must be picked up by parents for lunch. Teens, and our three adult groups will divide their time between the hotel and local entertainment venues and lunch is provided most days.
Infants & Toddlers - will be in a day care environment on site at the Renaissance. Each program is run by experienced care providers, and there will be an abundance of toys and activities for the children to enjoy as well as daily visits by music therapists and other entertainers.
School-age Children will enjoy a day camp environment within the Renaissance convention center space.  Children will be split into groups by age (usually 6-7; 8-9; 10-12) and rotate throughout the day from one type of activity to another. Activities generally include, arts & crafts; music; indoor games; outdoor games/bounce  house etc. (depending on weather) etc. The kids will be joined by volunteers at a ratio of 4 children for each volunteer.
Teens will be "out and about" - enjoying daily excursions to local entertainment venues, a day in Chicago, and much more. Click to preview the Teen Program Schedule. 
Adults with WS will be split into groups according to age (Warriors, ages 18-28 - preview Warrior schedule; GANG, ages 29-39 - preview GANG schedule; and Dream Team, ages 40 and older - preview Dream Team schedule). The groups will enjoy local venues, a day in Chicago (including a museum or aquarium tour, and a boat trip; and educational sessions at the Renaissance.
The WSA offers scholarships for our biennial conventions. Generally, we will be providing need-based scholarship awards to both individuals and families at various levels (up to a maximum award of $2000) to help offset convention expenses for educational sessions and programs (parents/caregivers and children/adults with WS and their siblings) and travel. Optional items are not covered by scholarships. Our general scholarship fund information is below, so please continue with that if it applies to you.  The PM Minority scholarship fund provides special funding for Black families of a child with Williams syndrome.  Established by a generous peer, the fund is intended to increase access to WSA programs for families in financial need.  Funding priorities are for African-American, Caribbean, African, or Black Latino (from Latin American countries) families. Central and South American, as well as Caribbean Latinos, may also apply. Click the button below to learn more about our scholarships or to apply for a scholarship for your family.  The scholarship application deadline for the 2022 convention is May 1, 2022. (Scholarships are no longer available for 2022)
FAMILIES HELPING FAMILIES
The WSA works very hard to keep convention expenses as low as possible – absorbing more than 50% of the costs and providing $75,000 in scholarships. But we can never do enough - conventions are still expensive, and many families are not able to attend. With your help, we would like to do even more. With a donation to the WSA's "Families Helping Families" campaign, you will be helping us increase our convention scholarship fund and to enable even more families to attend the convention – either virtually or in person. Please click the button below to make your donation today.
2022 CONVENTION SPONSORS