Adventure Seekers are adults with Williams syndrome who enjoy traveling and spending time with each other in a variety of destinations throughout the United States.
We offer a variety of activities for our Adventure Seekers. These include:
Virtual Adventure Seekers (18 years+): Zoom gatherings held monthly throughout the year. 
Adventure Seeker Plus One Trips (18 years+): Trips in the US where the Adventure Seeker must be accompanied by a chaperone
WSA Hosted Trips (21 years+): Non-chaperoned trips organized by the WSA, with varying activity levels for individuals. Each trip combines sightseeing, networking, and skill-building to create a mini-vacation that honors them as autonomous individuals and provides great fun for everyone!
Virtual Adventure Seekers
We recognize that due to the restrictions caused by COVID-19, adults were affected by the isolation and lack of social outlets; many of them temporarily lost employment, day program access, and their social lives. Regular virtual calls with WSA staff and volunteers have helped gain some of that back. Each month, we meet to play games, discuss music and movies, share experiences, and laugh. They have gotten to know friends from around the country, and flourish in a stable virtual community.
Click on the button below to learn about our other virtual programs, to register an adult 18+ up for the virtual program, or to join the fun as a volunteer "Zoom host."
Adventure Seekers Reunion - Nashville October 28 - 31, 2021
With quarantine behind us, and restrictions starting to open up across the country, we are thrilled to offer the Adventure Seekers an opportunity to get together in person (finally!!). Because this is our first trip since the restrictions have been lifted and with an abundance of caution, this year's Adventure Seekers trip is going to look different. This trip is a Plus One trip - each individual must be accompanied by at least one adult chaperone (parent/caretaker, adult sibling, staff, etc). Your chaperone will be responsible for organizing travel, transportation, hotel booking, oversight, etc. The WSA is not hosting day-to-day activities for you and your plus one or providing transportation to venues, but we will offer some group options: Adventure Seekers Meet & Greet on the evening of 10/28, optional shows, and entertainment tickets at group rates, evening meet-up activities, etc. This trip will look more like a joint vacation with your WS family. There will be no exceptions for unaccompanied travelers.
For more information, check out our Frequently Asked Questions.
Ready to join us? Register using the button below.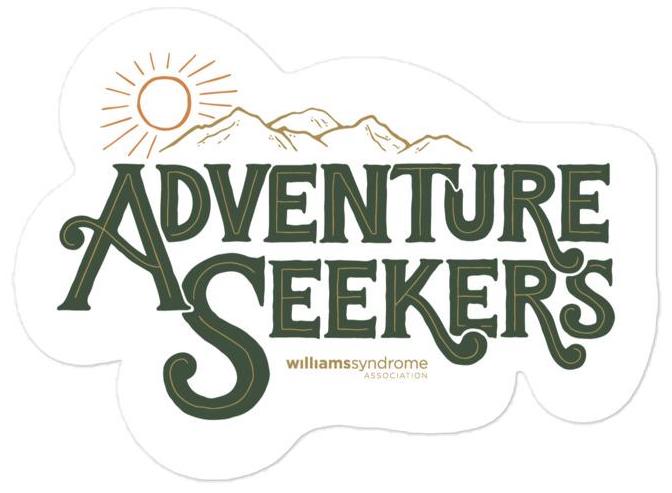 Do you love being an Adventure Seeker? Now you can share your Adventure Seeker pride with the world, and give back to the WSA all at the same time with our official Adventure Seekers gear! In our partnership with Outshine Labels, 70% of the profits from Adventure Seekers merchandise purchased is donated to the WSA. Check out our fun options, including t-shirts, sweatshirts, tote bags, and stickers!